Ahoy, mateloți! Nu mai e mult până când corăbiile vor ajunge pe insula PRIME Quest.
Pe 23 mai, pentru aproximativ opt ore, PRIME Quest, evenimentul ajuns deja la cea de-a noua ediție, e pregătit să îți pună spiritul aventurier și creativitatea la încercare. Hai alături de noi pentru a lua parte la o cursă contra-cronometru prin patru agenții de PR și Publicitate din București. La final, poți fi chiar tu câștigătorul unui internship în una dintre agențiile vizitate.
Cum se vor desfășura lucrurile? Ne întâlnim, începând cu ora 09:00, la Ted's Coffee Co. (Strada Toma Caragiu, nr. 3) și punem țara la cale. Vom forma echipajele care vor porni în căutarea mult râvnitului internship și îți vom oferi toate informațiile de care ai nevoie pentru a descoperi traseul pe care îl vei urma. Trebuie să fii atent la indiciile de pe drum, iar ajuns la agenții, împreună cu echipa din care vei face parte, să rezolvi, dând dovadă de creativitate, perspicacitate și spirit de echipă, niște briefuri.
Așa cum se întâmplă în bătăliile piraților, în urma fiecărei aventuri de rezolvare a briefurilor, una dintre echipe va fi eliminată. Exercițiul se va repeta la fiecare agenție, astfel încât la ultima dintre acestea va ajunge un singur echipaj. Aflat în acest punct, va trebui să uiți de sloganul "Toți pentru unul și unul pentru toți!" și să lucrezi individual, pentru a convinge că ești cel care merită să câștige cheia cufărului în care se află comoara mult dorită – un internship la ultima agenție!
Pentru a participa la această competiție este necesar să-ți iei inima-n dinți, să intri în pielea unui pirat și să fii gata să te lupți pentru comoară! Noi ne vom asigura că vei avea drumul presărat cu surprize faine și că experiența de pirat va fi una cât mai plăcută! Taxa de participare este de 10 lei, iar înscrierea se face pe baza formularului  https://bit.ly/2W2jKrP, până pe 22 mai, ora 16:00.
Primul indiciu: sigur ai auzit de agențiile participante, iar ele sunt gata să te întâlnească!
Save the date and be prepared to sail with the internship!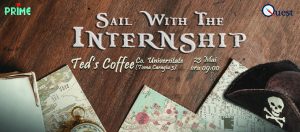 Evenimentul este susținut de Ted's Coffee Co, PopeștiPrint, AfriCola, VitaminAqua, Nestlé, Eisberg, Cufărul cu dorințe împlinite, Hold my stuff, Ionuț Reti, Succulent Garden, Clever, KFC.