Un nou eveniment marca PRIME e aici! Aflat la cea de a II-a ediție, Visually Speaking își propune să îmbine domeniul Comunicării cu cel al Art Designului, iar tema de anul acesta e gata să creeze un portal al timpului.
Hai alături de noi joi, 28 martie la The Fool, începând cu ora 14:00, la "From Ad to Ad: The Challenge of Time" ca să trecem împreună, timp de 3 ore, prin evoluția printului și să aflăm tips & tricks despre creativitate.
Încă pare totul în ceață? Stai liniștit/ă. Folosim imediat un tool cu explicații și clarificăm lucrurile. Paul Cotor (Head of Creatives @Minio Studio) și Marius Cioroabă (Copywriter @Minio Studio) o să fie alături de noi pentru a conduce discuția despre diferite perioade ale Advertisingului, a analiza fiecare layer al istoriei publicitare și a ne explica cum putem aduce tendințele oldish ale Publicității în actualitate.
Și pentru că din atâtea layere trebuie să iasă ceva uber cool, ne-am gândit că poate ai și tu un afiș din vremuri de mult apuse pe care l-ai împrospăta și pe care vrei ca speakerii noștri să-l analizeze în cadrul workshopului, așa că așteptăm să ne trimiți propunerea ta la adresa events@primeromania.ro până duminică, 24 martie, ora 23:59.
La prima ediție Visually Speaking, Raluca Circo – Art Director și Miruna Dumitrescu – Copywriter la Jazz Communication au pus accentul pe diferențele culturale sau de altă natură care pot apărea în cadrul producțiilor creative. Speakerii au analizat afișele și ideile celor înscriși la workshop, astfel aceștia au primit un feedback profesionist și au plecat de la eveniment cu un bagaj de nou de cunoștințe. Dacă anul trecut s-a creat o punte între culturi, anul acesta o să se creeze o punte între trecut și prezent.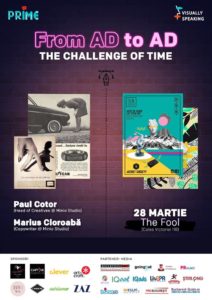 Dacă nu ai prins prima ediție e musai să o prinzi pe a II-a. Completează formularul de înscriere până pe 27 martie, ora 23:59: https://goo.gl/forms/sZuD8R0WPYMSslEl1.
*Nu uita: Dacă te numeri printre cei care au multe întrebări și sunt activi, pleci acasă și cu niște premii.
Intrarea e liberă, apropo, deci, te așteptăm!
Sponsori: The Fool, Soseta 3, aerium.ro, I WOOD BE, Romanian Art&Craft, ZAZ, Captive Escape Room, Clever.
Parteneri media: IQads, IQool, PRwave, Iubesc Studenția, Going Ouț, Știri ONG, Advertising 4U, vinsieu.ro, inOras.ro, Live PR, Re-star.ro, Ze-list, probucuresti.ro, Bucharest-Guide.ro.